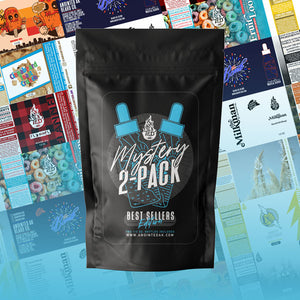 Best Sellers Mystery 2-Pack
Mystery 2-Packs are here! It's no secret that picking between our wide variety of Best Selling Beard Oil Blends can be a daunting task! No fear, we've taken out the guess work with these Best Sellers Mystery 2-Packs.
Each Pack Features (2) Randomly Selected 1/2 Oz Bottles of our Best Selling Blends in a convenient resealable Matte Black pouch. The blends inside are randomly selected (hence the term 'Mystery') and pre-sealed, so you cannot pick which of these best sellers you'll receive.

Mystery 2-Packs make great Stocking Stuffers, and also are the perfect size for travel bags so you can keep that facial mane funky fresh, wherever life takes you.
Each Mystery 2-Pack Features:

(2) 1/2 Oz. Bottles of Randomly Selected Best Sellers Beard Oil
Scent Possibilities:

The Milkman (Smoked Vanilla, Coconut & Marshmallow)
The Bomb (Bomb Pop)
Cali Savage (Orange Creme & Vanilla)
Cinnabeard Toast Crunch
Flannel (Polo Red Inspired Cologne Blend)
Fruit Loops
Vanilla Smoke III (Smoked Vanilla, Tobacco & Warm Vanilla Sugar)
Sandalwood & Suede (S andalwood, Amber, Suede, Cedar & Musk)
White Lightning (

Calamansi, Star Apple, Papaya, Musk, Honey & Cheesecake)

The Recluse ( Musk, Black Pepper, Sweet Pipe Tobacco, Tonka Bean, Citrus)
Ingredients: Made From a Certified Organic Blend of Golden Jojoba Oil, Sweet Almond Oil, Argan Oil, Vitamin E & Therapeutic Grade Essential / Fragrance Oils.
---